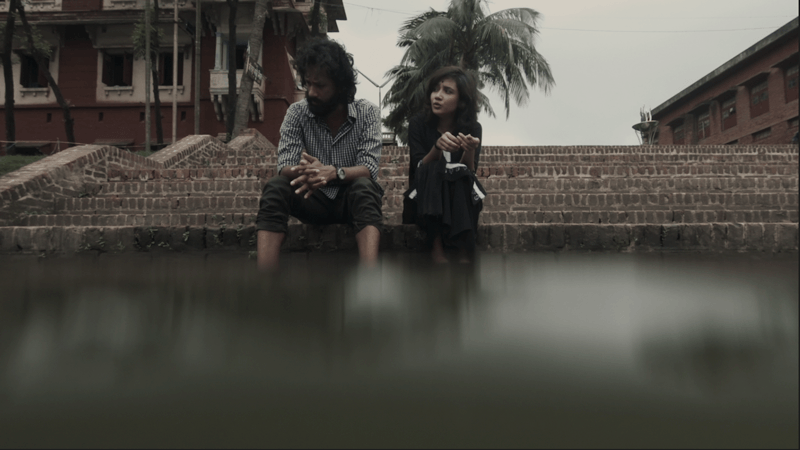 A Scene from the short film 'The End'
Films4Peace Foundation (F4PF) is going to complete its 6-month long film-making workshop. Screening just after Eid-ul-Fitr with the support of the Manusher Jonno Foundation under the SAMPREETI project. Before Eid holidays, a film-themed on religious tolerance and diversity entitled 'The End' has been completed which started on May 24 and ended on June 1. A group of dedicated youth, shortlisted after submission of application from different universities. Has directed this film under the supervision of Ahmed Tahsin Shams, a short films maker, and academics, as part of their film-making workshop.
Farhana Islam from the Department of Television, Film and Photography, University of Dhaka. Jamaluddin from the department of Philosophy, Dhaka College. Rashedul Islam Rony from  Daffodil International University. Apurbo Saha Drama and Dramatics, Jahangirnagar University. Mohammad Mehedi Pervez Prince from the Department of Media Studies and Journalism, University of Liberal Arts Bangladesh.
Worked to Express Their Story
Has worked to express their story through the lens of a camera for promoting peace. This film has given a strong message in opposition to extremism and intolerance to aware. The youth about how diversity and tolerance lead to peace in a community; and the other way round lead to ' The End' extremism, intolerance, and disharmony in life and society. The story about two middle-aged men, Newaz and Irfan, whereas Newaz shares how family always taught him. Racism and intolerance, on the other hand, Irfan shares how his family taught him to tolerate. To accept friends from other economic classes, other religions, and communities and to a cultural person.
However, Newaz gradually had become intolerant and turned into a criminal. On the contrary, Irfan had become a learned man, got a successful career, and all credit goes to ' peace begins at home' his family which always prioritized being diverse. Farhana Islam, one of the young film-makers, said, "With this strong message, I believe it can create consciousness among the youth which will instigate them against violent extremism that hinders peace and harmony of our society." The short-film casts Shoikot Siddique, Mohammed Ridwan Noor, Safwan Mahmud, R S Shuvo, Newton Mondol, Miriam Gomes, M H Shimul, Mohammed Shumon, and others. At the end of June 2019, these short films will screen with other submissions from various participants on a similar theme at the first-ever Peace Film Festival 2019 in Bangladesh to be organized by Films4Peace Foundation.