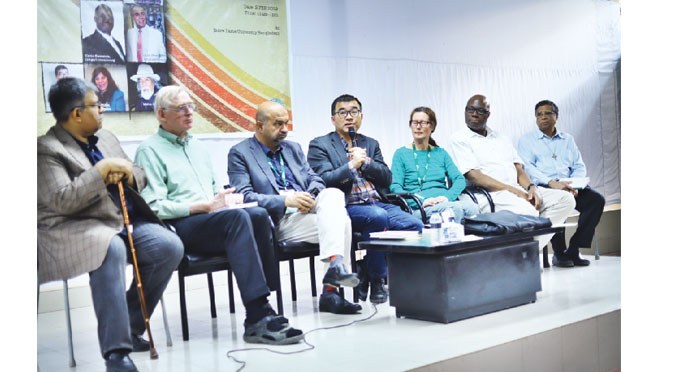 A poetry discussion session with international and national poets Notre Dame University Bangladesh English Club (NDUBEC). Organized a seminar on contemporary world poetry entitled 'Adda de Poetica' on 2 February 2019 at 11:30 am onwards. This program part of the Dhaka International Poet Summit 2019 organized by Kathak.
Professor Dr. Fr Patrick Daniel Gaffney, CSC, Vice-Chancellor of NDUB, Fr Adam S Pereira, CSC, Registrar, Fr. Tom McDermott, CSC, Director, English Language Center, Dr. Br Leo J Pereira, CSC, Deputy Controller of Examinations, Kama Kamanda from Congo, Dr. Tianxin Cai from China, Claire Booker from the UK, Dr. Ali Al-Shalah from Iraq, Aminur Rahman, President of Dhaka International Poet Summit among others were present during the program.
Poets shared their writings based on various contexts such as war, love, poverty, and success. The session was followed by an Adda de Poetica (informal discussion) where students voiced their queries to the poets in a
panel discussion
.
The seminar winded down with a vote of thanks on behalf of NDUB and NDUBEC delivered by Fr Adam S Pereira, CSC. It organized by NDUB English Club moderator and co-moderator Habiba Akter and Ahmed Tahsin Shams respectively who faculties of the department of English at NDUB.