Christ and Krishna are hardly different: Antony Phiringi
AHMED TAHSIN SHAMS
[This article was published on August 1, 2015 in The Daily Observer]
Srijit Mukherjee, the director of 'Jatiswar', a national award winning Indian-Bangla film and primarily selected by the Indian Oscar committee, perhaps spoke through the character of Maya (Swastika Mukherjee) that "both the Bengals are mine, from Rupom Islam to Nazrul Islam" which clearly hints his anti-racist approach. Moreover, Srijit sketched his thought in an idiosyncratic way, his masterstroke narrative technique being anti-narrative, and thus he paid homage to the artiste who is lost in the lap of time – Antony Phiringi (Prasenjit Chatterjee), a Portuguese Christian whose immense contribution in Bangla 'Kobi Gaan', a poetic-musical trend in late 18th century and early 19th century, is an asset of the language as well as of Bangla culture.
Rohit Mehta (Jishu Sengupta) represents Antony of 21st century. The screenplay has been penned astoundingly when the viewers will simultaneously view 19th century and 21st century at a time, the life and struggle of Antony and Rohit, which is a struggle against border, against race in case of culture. The song gives sharp knock of Srijit's point of view: 'Phiringiro Bangladesh' (Antony also belongs to the soil of Bangladesh)
The story takes leap to suspense when viewers find out that the tale which is told about Antony are spoken by a librarian, Kushal Hazra, who claims that he was Antony Phiringi in his previous birth. However, Rohit met that librarian while knowing about Antony as it was his research assignment of his university and he did not believe at the beginning but Kushal provided keen description of Antony's views, personal and professional life which hardly can be found in any historical book or internet. To give reincarnation a scientific ground, Kushal even referred Ian Stevenson's, a Canadian biochemist and psychologist, '20 cases suggestive of reincarnation'. Moreover, Kushal referred to many recent facts where reincarnation has been found out and there comes the myth term 'jatiswar', means a person who can recall the memories of previous birth.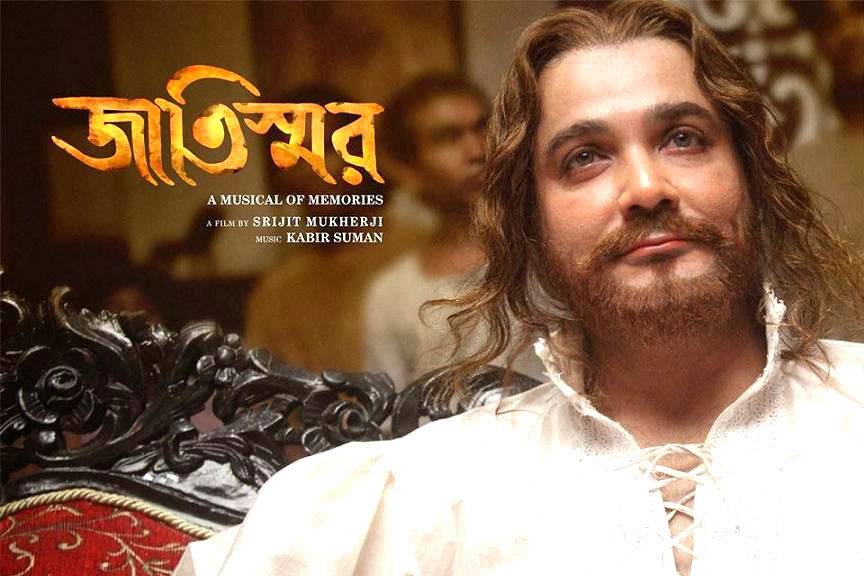 Maya, who is loved by Rohit, considers Bengali intellectuals as the supreme in the universe and so challenges Rohit, a Guzrati boy born in Kolkata, to learn Bangla and to write and recite a Bangla lyric with perfect pronunciation when Rohit proposed his love. This same background has been painted in Antony's life who was born in Kolkata but ancestors were from Portugal. The screenplay thus merges with one another and director keenly played with time. The transitions between scenes unite the theme and characters sketching a borderless world.
Talking about the technical aspect, cinematography is a must to mention. Maximum scenes are taken in POV (Point Of View shot) as the theme relates to the director's attitude towards culture and border. The cinematographer Soumik Halder deserves profound acclamation. The camera work itself narrates a story. In addition, all props and costumes well-fit the script as well as both eras.
Every viewer would surely engrave the music in the minds. Suman Chattopadhyay (Kabir Sumon) won National Award for Music Direction in this film. The music splendidly binds the tale of two people living in two poles, their journeys in the name of love and music. The barriers of space and time have been uprooted by music. The present Kolkata and 19th century's Gangetic Bengal warmly pulled off by the tune of Sumon. Music cannot be barred by the boundaries of language, this theme Sumon sewed perfectly in his music. The music along with the theme proved the eternity of subjects breaking the borders of country and race considering culture.
Srijit's smart wit chose Antony Hensyman, who almost died out from the brains of Bengal, to pen his ideology rather biography. Antony's affection towards Hinduism being a catholic Christian and his musical participation by worshipping Durga brought his tragedy. His house and wife were burnt by the extremists. The contrasting climax of the film is an extra add-on of suspense for the viewers. Both the characters of 21st century and 19th century, Rohit and Antony, though had a similar starting, ends up reversely. This reverse undoubtedly proves the broadness and enlightenment that cultural practice provides in contemporary period.