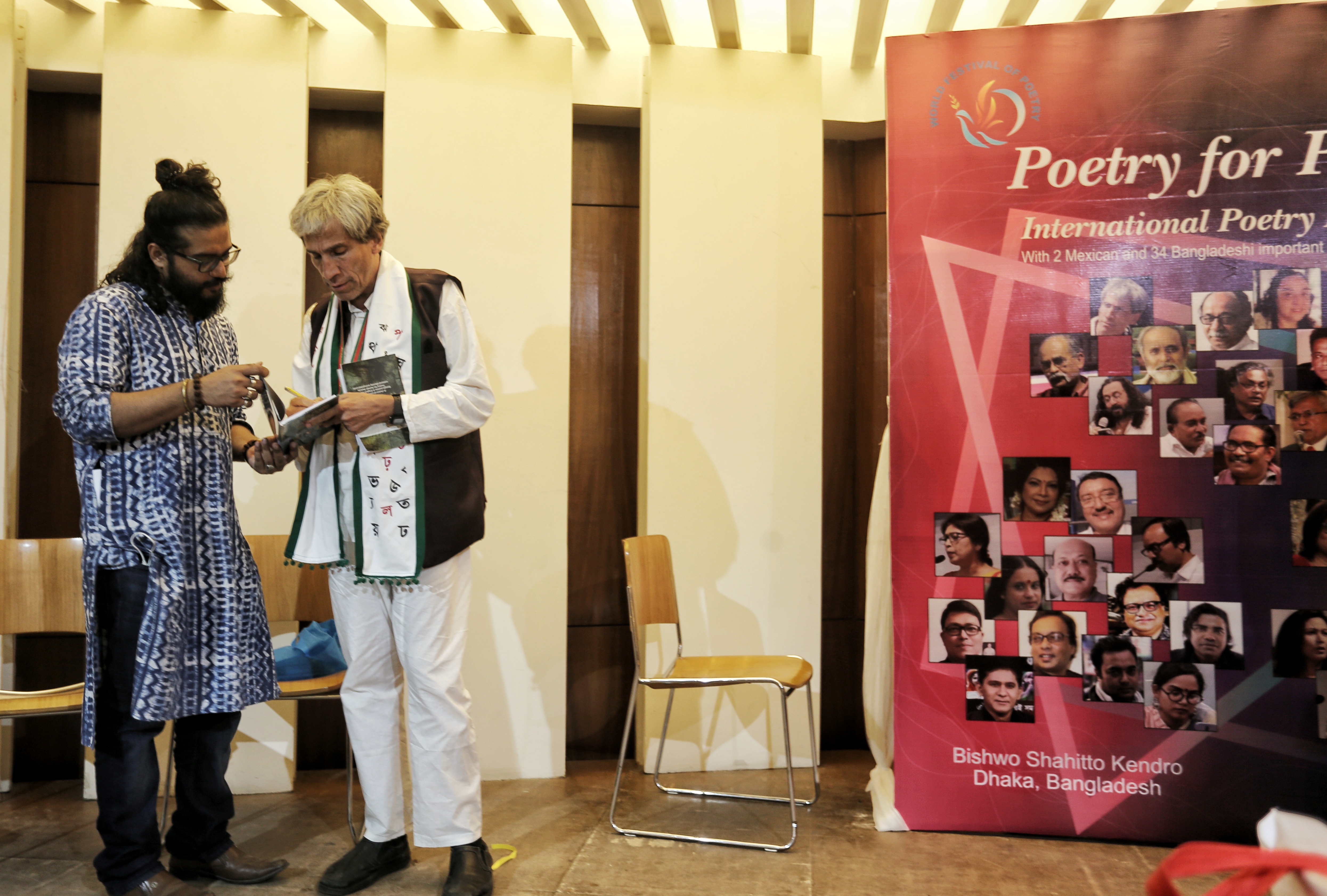 The youngest poet among them all, Nazmun Naher Shishir, recited her own poem, titled Dhaka. It was a stream of consciousness style poem. And it could very well serve as a monologue for all women residents of Dhaka. Who loves this city but at the same time, finds it unbearable due to the pervasive and toxic rape culture
International Poetry for Peace Recitation Event
An international poetry recitation event, with the slogan Poetry for Peace, was held at Bishwo Shahitto Kendro on Friday at 5pm. Two internationally renowned poets from Mexico, Dr Yuri Zambrano and Dr Mayra Chavez, and 35 Bangladeshi poets recited at the event.
Among the local poets, there were Mohammad Nurul Huda, Jahidul Huq, Jahangir Firoze. And Najma Chowdhury, Shakib Lohani, Tarik Sujat, Shaila Kabir, Zemrina Haque, Mir Akram, Shihab Shahriar, Zahid Mustafa, Nayema Khanum, Kamrul Hassan, Zahirul Alam, Rahima Akhter Kalpana, Ayesha S Chowdhury, Pias Majid and many other notable contemporary poets of Bangladesh. Poet Aminur Rahman hosted the entire event and also read the final poem of the evening.
Several journalists, who are also prolific poets, such as Dhaka Tribune Executive Editor Reaz Ahmad. Assistant Feature Editor at The Business Standard Nazmun Naher Shishir, were also among the 35 local poets. They also recited their own poems.
Notre Dame University lecturer, journalist and author Ahmed Tahsin Shams stole the show by reading an English poem, written by him, in which there is melodic chorus that he sang for the audience in the intervals between the stanzas. His Bangla poem recitation was also full of electric energy.
Most of the poems that were recited dealt with themes of love, relationships, freedom, life in a metropolitan city, feminism and peace.
Some statements from poets
The youngest poet among them all, Nazmun Naher Shishir, recited her own poem, titled Dhaka. It was a stream of consciousness style poem, and it could very well serve as a monologue for all women residents of Dhaka, who loves this city but at the same time. Finds it unbearable due to the pervasive and toxic rape culture.
Shishir told the Dhaka Tribune Showtime: "I am a poet activist of Kathak and I have been involved with Aminur bhai's programs for the last four years. It is an overwhelmingly happy feeling, being able to recite poetry among all these renowned poets. It is a wonderful experience for the younger poets, as the elder ones are very supportive. They are giving us the floor to explore different subjects in our poetry. And they also, in a manner of speaking, nourish our writing."
In regards to the inspiration for her poem Dhaka Shishir said: "It was written last night from my own personal experience, but I am sure it is relatable to most women in Dhaka. Us women go through cat-calling, or uncalled-for reprimand for the way we dress everyday in Dhaka.
"I riding a CNG a few days ago, and the driver asked me to wear more clothes, just because I wearing a sleeveless blouse with my saree. On the roads, men will either ogle us or they will touch us intentionally, be it day or night. So, out of all the anguish, I wrote that poem. "However, I do write about other subject matters such as love, relationships, friendships and living in a society such as ours. All my poems are written from very personal experiences," Shishir added.
Travels to Subcontinent
Among the two Mexican poets in attendance, Dr Yuri Zambrano spoke to Showtime about the goal of his travels to the subcontinent. He said: "This is my first time in Bangladesh. As part of World Festival of Poetry, we have to make many poetic tours around the world. The tours are sort of like a pilgrimage. We started our pilgrimage in the subcontinent on August 12. We have been to Delhi, Varanasi, Kolkata, and now we are in Dhaka. From here we go to Nepal and then to Bhutan.
"We make these tours to enhance our poetic capacities, by taking in the sights and hearing poetry from other poets of the world. That is the goal of World Festival of Poetry, in which 8000 poets from 100 countries participate. It is the biggest group of poets. Our job is to spread poetry and infect people with it."
Regarding the mystery behind the camaraderie of poets, even if they do not share the same language. Zambrano said that: "We all have empathy and this amazing synchronicity between poets. I met some poets today for the first time. I am sure I will be able to converse with them on various issues for a long time. If this synchronicity gets infectious among all the people, then  there will be more trust in the world. People will empathize with and trust other souls, just by looking at their eyes."
Read More about Panel Discussion, book launching held in Kolkata
News Coverage: Dhakatribune, The Daily Star