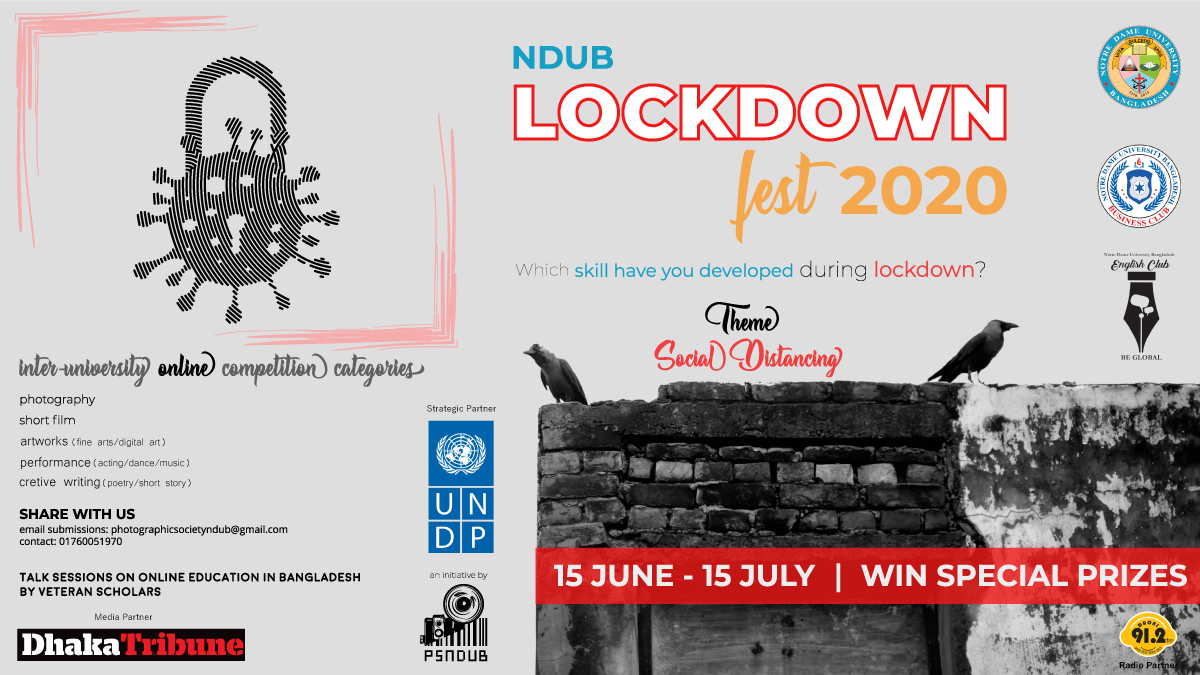 Veteran speakers talk on communication strategies second talk session of NDUB Lockdown Fest 2020 was held on Tuesday 30 June 2020 at 4:00 PM onward in zoom entitled 'Changes in Business Communication Strategies in 2020.
The special guests at the event were Md. Abdul Qayyum, Head of Communications, UNDP, and the second speaker was Sajid Amit, Associate Professor of ULAN and Senior Advisor of Tala.co, and the final speaker was Imran Kadir, Head of Business Development, Brand and Events, Daily Samakal, and Co-founder of Mission Save Bangladesh. The Photographic Society of Notre Dame University Bangladesh, in collaboration with the Notre Dame University Bangladesh Business Club (NDUBBC) and Notre Dame University Bangladesh English Club (NDUBEC), organized a national and international online competition along with talk sessions from 15 June 2020 to 16 July 2020 entitled 'NDUB Lockdown Fest 2020' where 90% of the sponsored amount will be donated to COVID 19 necessary health measures or vulnerable population. UNDP (Bangladesh) is the strategic partner of this event. Md Abdul Qayyum is a Development Communications professional with more than 15 years of experience. Currently, he is working as the Head of Communications for the United Nations Development Programme (UNDP). Also, he is an adjunct faculty at Bangladesh University of Professionals (BUP).
In the NDUB Lockdown Fest 2020 Mr. Quayyum shared his experience of communication strategies in the development sector. How objective or goal-based methods are implemented rather than only relying on technological tools in remote areas of the country. Because, reaching to the target audience is the ultimate achievement for awareness-based projects, especially for the present COVID-19-affected world. Also, he shed light on monitoring and evaluation strategies and said the communication strategy must meet the project timeline.
Communication Strategies in the Development
Sajid Amit is Associate Professor, ULAB, and Senior Advisor, Bangladesh, Tala.co. He is a Richard Hofstadter Fellow, Columbia University, 2005-2007, and Vivian B. Allen Foundation Scholar, Dartmouth College, 2000-20004. He is a former investment banker at Morgan Stanley, New York, and Strategy Consultant, KPMG Advisory, India. Mr. Sajid discussed internal and external communication strategies for retail, e-commerce, financial services, and restaurants during and post-pandemic situation. Also, he shed light on how today's leadership decentralized and shared his viewpoints on 'leadership through visibility' and the importance of over-communication. For businesses that faced extreme challenges, he concluded, "It is the best time for us to learn from mistakes and be patient in time of failure because there is a silver lining to the end of it." Imran Kadir is Head of Business Development, Brand and Events, Daily Samakal, Co-founder, Mission Save Bangladesh, Director of Gorai Films.
He talked about the empathetic approach of businesses during and post-pandemic situation and the role of media during the lockdown period."There should right message broadcasted to the masses during this time of the pandemic," he shared and added the example of many renowned brands which recently changed their business mottos avoiding the terms of "Keep Hugging" and "Finger Licking Good" as these clash with the 'social distancing' situation. Finally, all three panelists suggested further discussions for measures to overcome the 'digital divide' as everyone doesn't have proper access to online these days.
Session Moderated
The session moderated by Ahmed Tahsin Shams, Lecturer at the dept. of English and co-moderator of NDUB English Club. The whole session recorded and uploaded on the NDUB official page, NDUB youtube, NDUB website for further review. The other sessions are The Journey of Content Making for Today's Social Media with Rafsan Shabab & Keto Bhai on 4 July 2020 at 4:00 PM onward and Creative Practice and Impact on Mental-Being where international creative practitioners on 5 July 2020 at 4:00 PM onward. Also, students from any country can participate in the creative competition themed Social Distancing on the following categories: a) Photography b) Short Film c) Artwork (Fine Arts/Digital Arts) d) Creative Writing (poem/short story) e) Performance dance/recital/music). The submission ends on 9 July 2020 and the online award ceremony will hold on 16 July 2020. Dhaka Tribune and Radio Dhoni 91.2 FM are the media partners of this event.