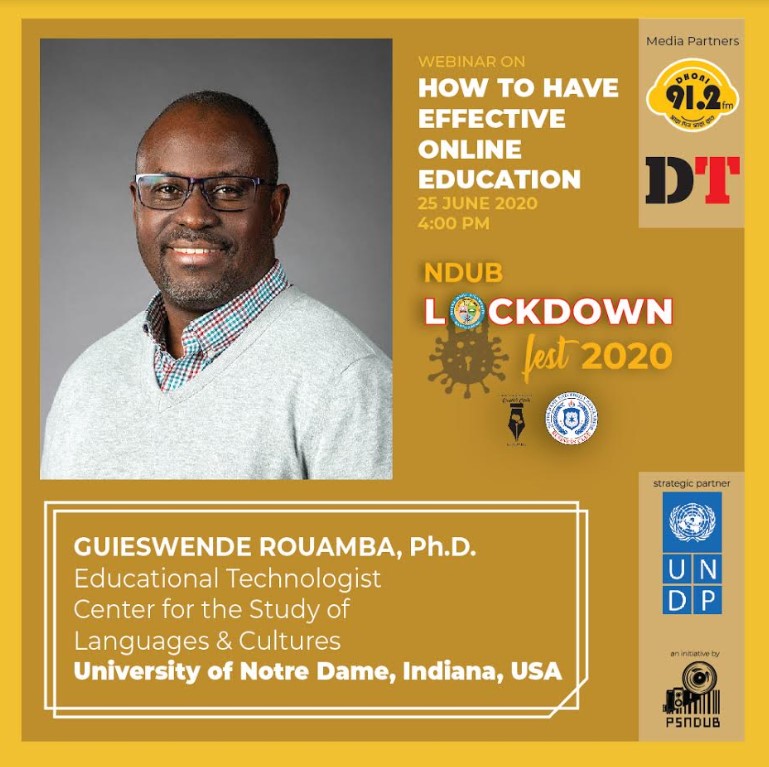 Webinar on how to have effective e-learning held
The first talk session of NDUB Lockdown Fest 2020 was held on Thursday 25 June 2020 at 4:00 PM onwards in streamyard and Facebook Live (From Notre Dame University Bangladesh page) named 'How to Have Effective Online Education in 2020'.
The Photographic Society of Notre Dame University Bangladesh, in collaboration with the Notre Dame University Bangladesh Business Club (NDUBBC) and Notre Dame University Bangladesh English Club (NDUBEC), organized a national and international online competition along with talk sessions from 15 June 2020 to 16 July 2020 entitled 'NDUB Lockdown Fest 2020' where 90% of the sponsored amount will be donated to COVID 19 necessary health measures or vulnerable population. UNDP (Bangladesh) is the strategic partner of this event.
The chief guest was Prof. Dr. Fr. Patrick D. Gaffney, CSC, Vice-Chancellor, NDUB; and the special guest was GUIESWENDE ROUAMBA, Ph.D., Educational Technologist, Center for the Study of Languages & Cultures, University of Notre Dame, Indiana, USA. The discussion covered the following areas:
Syllabus Designing & Lecture Planning for Online
Interactive Online Classroom
Engaging Students with Activities
Online Exam/Assignment Evaluation
Learning Management System (LMS)
Online Flipped Classroom
Assistant Professor of NDUB SK. Rezwan Shihab discussed his experience in LMS and Interactive Classroom. On the other hand, Senior Lecturer of NDUB and Program Director of NDUB Language Center Habiba Akter shared the pros and cons of online education in the context of Bangladesh. Associate Prof. and Head of Dept. of Information Technology and Management, Daffodil International University Imran Mahmud gave a detailed lecture on Online Flipped Classroom.
Lecture Planning for Online
In addition, Ejaj-ur Rahaman, Deputy Director, DIU, Former Fellow at Teach for Bangladesh, shared his insights on online education. Sabiha Sultana, faculty of Education and e-Learning expert, a2i Programme, Fulbright Fellow, University of Massachusetts, Amherst discussed the government's measures in this new education trend and on-going initiatives around the country. In the last part of the session, Dr. Br. Leo J. Pereira, CSC set the query session discussing exam and evaluation. Deputy Registrar, Dr. Fr. Leonard Shankar ozario, CSC provided the vote of thanks to the special guests. Assistant Director of Student Affairs at NDUB and Club Coordinator Sister Shagorica Gomes, CSC showed gratitude to guests and welcomed queries from students and teachers.
The concluding notes were delivered by Prof. Dr. Golam Sarwar Chowdhury, Chairman, Dept. of English, NDUB. The whole session recorded and uploaded on the NDUB official page, NDUB youtube, NDUB website for further review. The next two sessions will be on June 30 and July 5 about Changes in Business Communication Strategies in 2020 and Creative Practice and It's Impact on Mental Well-being respectively. Also, students from any country can participate in the creative competition themed Social Distancing on the following categories: a) Photography b) Short Film c) Artwork (Fine Arts/Digital Arts) d) Creative Writing (poem/short story) e) Performance (dance/recital/music).
The submission ends on 9 July 2020 and online award ceremony will be held on 16 July 2020. Dhaka Tribune and Radio Dhoni 91.2 FM are the media partners of this event.