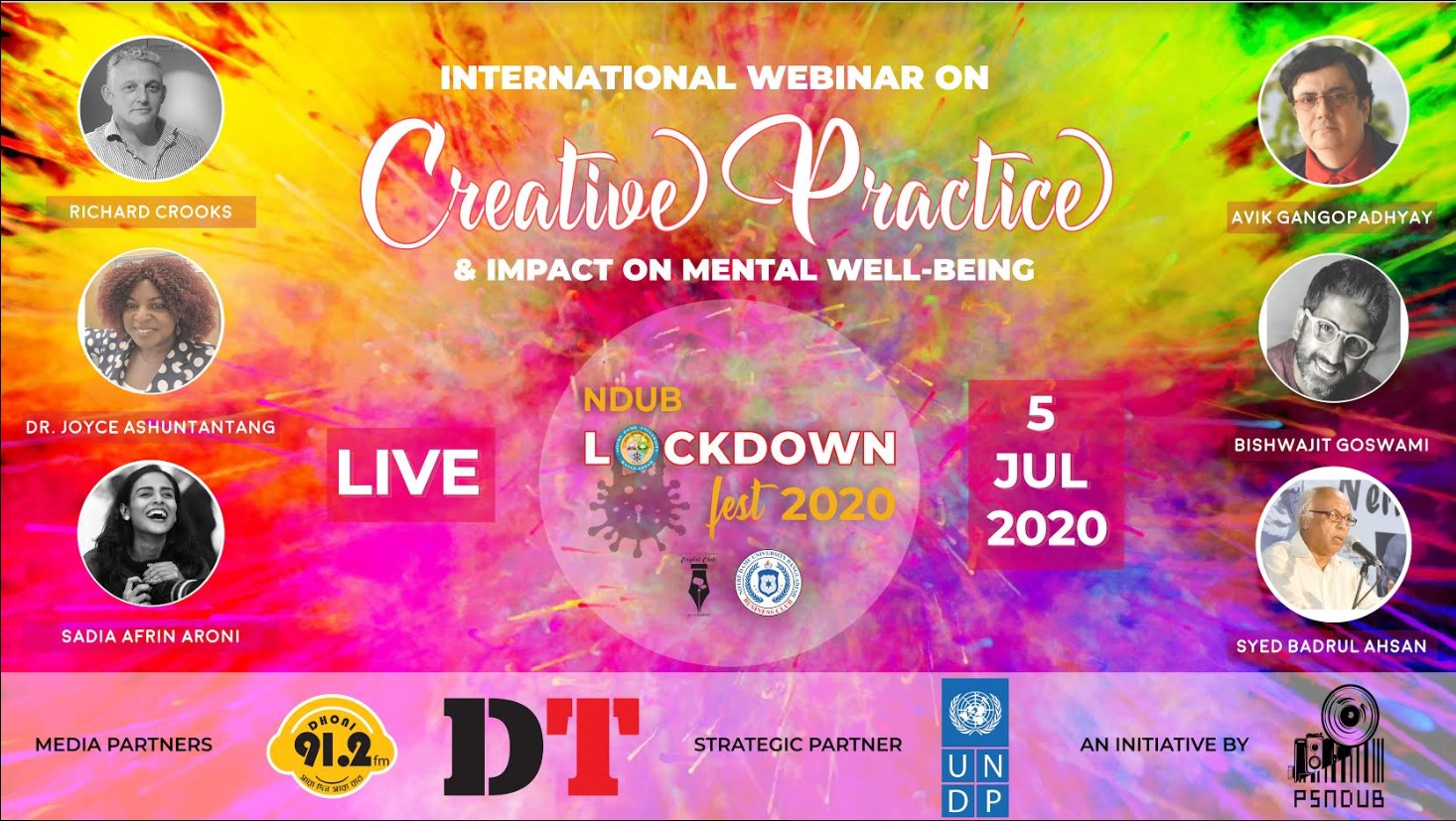 WEBINAR @ NDUB LOCKDOWN FEST 2020
On Creative Practice & Impact on Mental Well-Being
Three episodes of talk sessions entitled 'Creative Practice and Impact on Mental Well-being' were held on Sunday 05 July 2020 at 4:00 PM onward on Streamyard and Facebook Live (From Notre Dame University Bangladesh page) as part of the month-long event NDUB webinar Lockdown Fest 2020. The chief guest of the event was Prof. Golam Sarwar Chowdhury, Head of the Department of English, NDUB. All three episodes discussed how creative practice connected to the state of mind. Well-being referring to the WHO's (World Health Organization) definition of mental well-being:
discovering the self and full potential
being productive and fruitful
achieving the ability to handle the everyday stress of the surrounding
contributing to the humankind, community, country, or world.
First Episode of the Webinar
The session moderated by Ahmed Tahsin Shams, Lecturer, Department of English, NDUB. The esteemed panelists for the first episode were comprised of academics and literature practitioners like Avik Gangopadhyay, an author, critic, and columnist from Kolkata, Syed Badrul Ahsan, a renowned journalist, author and columnist based in London, and Bishwajit Goswami, visual artist and academic.
Avik Gangopadhyay approached theoretically how art practice balances a character to have a state of well-being. The next speaker Syed Badrul Ahsan connected the study of the past that creative practice provides to form the journey of growth. Finally, Bishwajit Goswami addressed the youths in taking inspiration from the environment as a way of developing ideas and working together to transform these ideas into a new artistic platform.
Second Episode of the Webinar
The second episode of the NDUB webinar started at 6:00 PM, conducted by Sadia Afrin Aroni, Founder and Head of Cinematography at Checkmate Events. She shared her journey of various experiences in her professional field of cinematography, photography, audio-visual content creation. The discussion interacted with the audience and responded to how the creative practice itself, disregarding any professional outcome, works as a healing process.
Third Episode of the Webinar
The last episode at 8 PM had by Dr. Joyce Ashuntantang (Joyce Ash), a poet and an academic from New York, USA, and Richard Crooks, a Curriculum Specialist, Ministry of Education, UAE. Dr. Joyce Ash is an Associate Professor of English, University of Hartford, Connecticut, the USA who performed poetry in Nicaragua, Greece, Costa Rica, Colombia, Bangladesh England, Germany, and within the USA. Her poems have been translated into Spanish, Hebrew, Greek, Turkish, Bangla, Arabic, and Romanian. The second veteran panelist was Richard Crooks, an artist, graduated from the University of Wales Institute Cardiff, MA Ceramics. AHRB Full Award also a visiting faculty at The Ruskin School of Drawing, Oxford University.
Poetry as Therapy
Poetry as therapy very well explained by Dr. Joyce Ash where she reflected her own mental turmoil of life healed by creative practice, thereby she recited a few of her relevant poems. On the other hand, Richard Crooks shared his experiences of different cultures as he travelled a lot for art residency programs thereby discussed many real-life incidents of how a creative person not only practices art, but also becomes an art himself/herself through lifestyle, communication, empathy, and observation. The concluding notes were delivered by Prof. Dr. Golam Sarwar Chowdhury, Chairman, Department of English, NDUB. The session is available on the official page, youtube, and NDUB website for further review. It is to mentioned that NDUB Lockdown Fest 2020 welcomes any students from any country. His wants to participate in the creative competition themed Social Distancing on the following categories:
Photography
Short Film
Artwork (Fine Arts/Digital Arts)
Creative Writing (poem/short story)
Performance (dance/recital/music)
The submission ends on 9 July 2020 and the online award ceremony will hold on 16 July 2020. The Photographic Society of Notre Dame University Bangladesh, in collaboration with the Business Club and English Club of this university. Organized a national and international online competition along with talk sessions 202 June 15,16 July entitled NDUB Lockdown Fest 2020. Where 90% of the sponsored amount will donate to COVID 19 necessary health measures or vulnerable population. UNDP (Bangladesh) is the strategic partner of this event. Dhaka Tribune and Radio Dhoni 91.2 FM is the media partner.