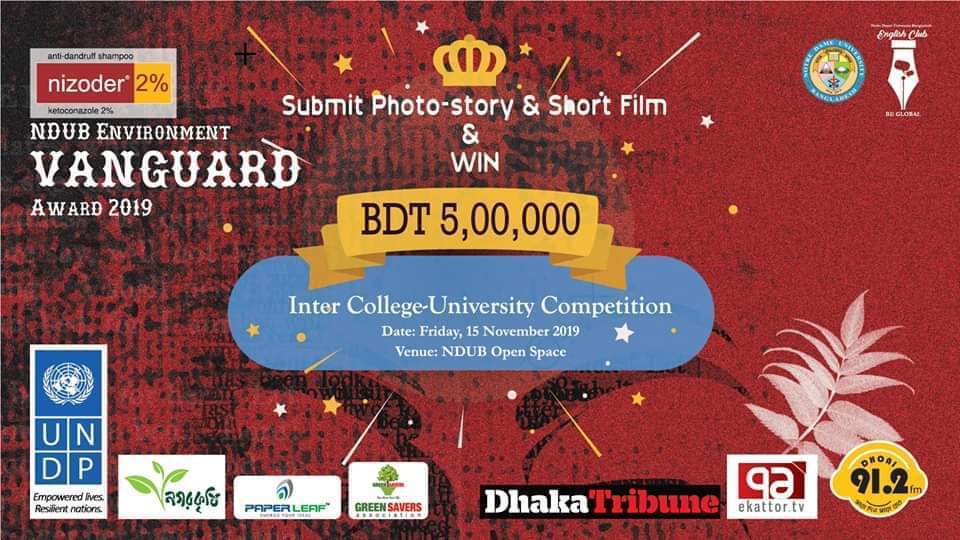 Notre Dame University Bangladesh English Club (NDUBEC) is going to organize a one-day event entitled
'Environment Vanguard Award 2019' where participants from any COLLEGE/UNIVERSITY of Bangladesh would be
shortlisted by celebrated juries through 'email submission' on the theme of 'ENVIRONMENTAL AWARENESS' to be held on Friday, 15 November 2019.
***PRIZE MONEY I CREST I CERTIFICATES I ATTRACTIVE GIFTS***
**SUBMISSION DEADLINE: 10 November 2019**
Submit at: PROFFICE@NDUB.EDU.BD
Contact: +8801684505561, +8801791033346
Submission Process:
1. Participant must write in the subject of the email:
Environment Vanguard Award 2019_[Category Title]_[Artwork Title]
2. Participant must write in the body of the email:
Participant's Name, Institution name, Department/Group, Student ID Card Scanned Copy
3. Submission fees must be sent through Bkash. Bkash No: 01684505561
4. The Bkash Transaction number must be sent to the NDUB English Club Facebook page through Messenger along with Participant's Name, University name, Department, University ID scanned copy, Name of the participated CATEGORY, Title of the submitted ARTWORK.
The categories of the competition are:
a. Photo-story [Per Photograph: BDT 300 (for NDUB students), BDT 500 (for others). Framing of Photo-stories will be provided by the Host]
b. Visual Poetry [BDT 200 (for NDUB students), BDT 300 (for others). It can be in any form. For instance, poetry can be recorded with motion graphics animation/filmed/photographed with poesie text.]
c. Short Film [BDT 600 (for NDUB students), BDT 1000 (for others)]
The contest includes:
a) jury session to shortlist participants for each category
b)1-day award ceremony along with workshop on environmental
consciousness in artworks, exhibition of the selected artworks
c) award giving ceremony to the winners (3 best from each
category)
d) certificates for all the shortlisted participants
N.B:
1. The authority has all the legal rights to disqualify any participant without any clarification.
2. Artworks' copyrights will remain to the participants.
3. No submission will be accepted after the deadline: 10 November 2019 (11:59 PM).
Facebook Event Link: https://www.facebook.com/events/374331173474811/
Strategic Partner: United Nations Development Programme – UNDP
Associate Partners: PAPER LEAF, Nagarkrishi, Green Savers
Print Media Partner: Dhaka Tribune
TV Media Partner: Ekattor
Radio Partner: Radio Dhoni
Digital Partner: Weabers Inc.
Creative Consultancy: Avant-Garde Productions