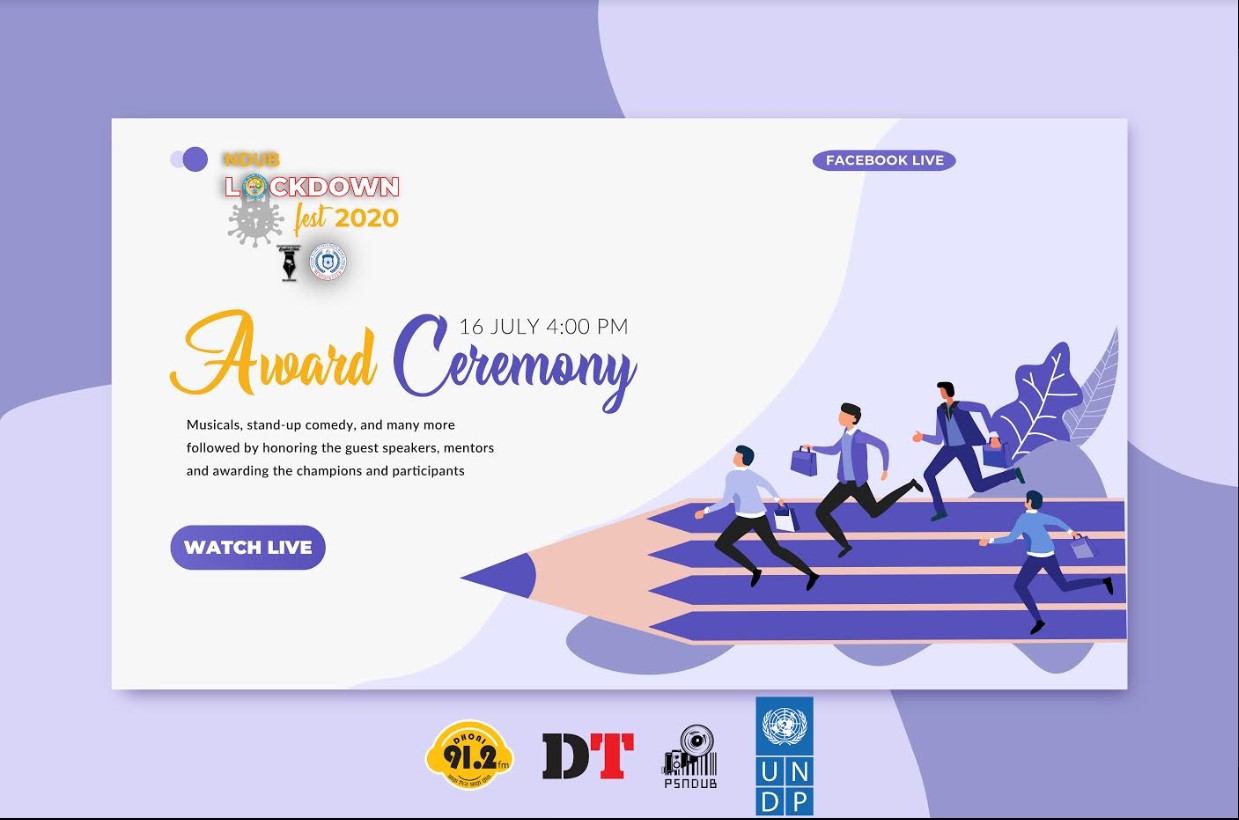 Entertaining Festival NDUB
The month-long scholarly and entertaining festival NDUB LOCKDOWN FEST 2020  ended on Friday 16 July 2020 4 PM. Where special guests Luz Maria Lopez from Puerto Rico and Debarati Bhattacharyya from India were present to share their scholarly creative insights. The event ended at 7:00 PM with a certificate and award ceremony for the month-long creative competition. Moderated by Ahmed Tahsin Shams, started the grand finale with a recitation of poems. He is Lecturer of the Department of English, NDUB, and Co-moderator of NDUB English Club.
NDUB Lockdown Fest Organized Webinars
Written in Bangla, English, and Spanish during 'lockdown' around the world written and read by scholar from Puerto Rico Luz Maria Lopez and from Kolkata, India Debarati Bhattacharyya. The second segment of the event was to honor special guests. Speakers of the whole event along with the name of the champions in 5 categories of the competition. It is to mentioned that NDUB Lockdown Fest 2020 organized 3 international webinars and 3 workshops that open for all in NDUB official Facebook page. In the performance category, Rudava Tasnim Nijhum, in artwork and photography category Mugdho Moyee, in creative writing (poetry) Maria Islam, in creative writing (short story) Jannatul Ferdous Banhi, and in the short film category, Ishtityak Ahmad Zihad became the champion. The event ended with a musical performance by students named Priyana Virginia Gomes and Rahat Talukder. The international speakers and guests of the whole event were awarded.
Webinar Organized
The first webinar held on 25 June 2020 entitled 'How to Have Effective Online Education in 2020' where the guest of honor and speaker was Dr. Guieswende Rouamba, Educational Technologist, Center for the Study of Languages & Cultures, University of Notre Dame, Indiana, USA. Sabiha Sultana, an education faculty and e-learning specialist in the a2i program, received an e-certificate of honor from NDUB.
The second webinar held on 30 June 2020 entitled 'Changes in Business Communicationn  Strategies in 2020. The special guests who received honorary award as panellists were Md.Abdul Quayyum, Head of Communications, UNDP. The second speaker was Sajid Amit, Associate Professor of ULAN and Senior Advisor of Tala.co. And the final speaker was Imran Kadir, Head of Business Development, Brand and Events, Daily Samakal, and Co-founder of Mission Save Bangladesh.
The third webinar held on 5 July 2020 entitled 'Creative Practice and Impact on Mental Well-being'. Where Avik Gangopadhyay, an author, critic, and columnist from Kolkata. Syed Badrul Ahsan, a renowned journalist, author, and columnist based in London, and Bishwajit Goswami. Visual artist and academic, Dr. Joyce Ashuntantang (Joyce Ash), a poet and an academic from New York, USA.
NDUB Collaboration
Richard Crooks, a Curriculum Specialist, Ministry of Education, UAE were the panelists who received a certificate of honor on Friday at NDUB Lockdown Fest 2020. The Photographic Society of Notre Dame University Bangladesh, in collaboration with the Notre Dame University Bangladesh Business Club (NDUBBC) and Notre Dame University Bangladesh English Club (NDUBEC), organized a national and international online competition along with talk sessions from 15 June 2020 to 16 July 2020 entitled 'NDUB Lockdown Fest 2020'. UNDP (Bangladesh) is the strategic partner of this event. Dhaka Tribune and Radio Dhoni 91.2 FM is the media partner.