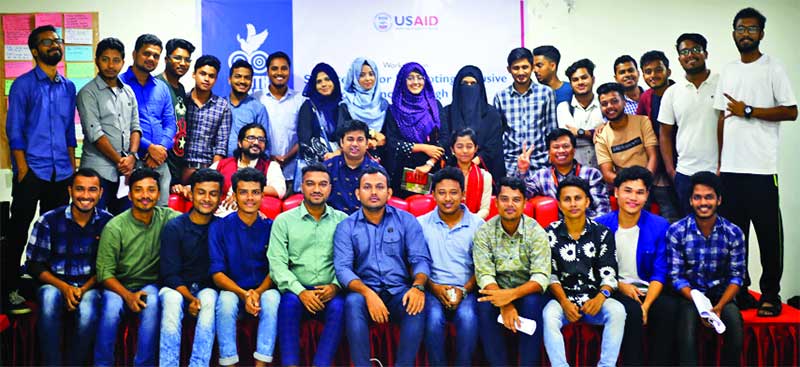 The fourth day of the residential workshop 'Storytelling for Promoting Inclusive Governance through Films'. Youth Peace Film 2018, an initiative by USAID, organized by the Films4Peace Foundation held on 11 October in Cox's Bazar.
The aim of this event is to create 25 youth peace film-makers who will promote peace through their 5 short films on the following themes: Gender Equity, Diversity-Tolerance-Peace, Access to Justice, Inclusive Education, and Role of News: Panic versus Peace.
The shooting of these films will begin in November and will be screened at Cox's Bazar in December, said a press release.
The first session of the workshop on 11 October 2018 conducted by Pervez Siddiqui, film-maker and Executive Director at Films4Peace Foundation. Where he discussed with detail handouts and references about the structure and techniques of making a documentary film.
Nabaleswar Tripura Lion
Nabaleswar Tripura Lion, Program Director at Films4Peace Foundation, enlightened the participants about the role. The diversity that leads to developing tolerance in human beings which eventually establishes peace in society.
Moreover, Ahmed Tahsin Shams, Lecturer, Department of English,  Notre Dame University Bangladesh. Writer and film-maker lectured on the various forms of storytelling, 'Content is the water inside a glass. That glass or pot is the media that reveals the content, and this pot creates the magic.'
He further discussed different narrative techniques and engaged the participants aged 18-30 with storytelling and scriptwriting activities on the given themes.
The session ended with announcements of accomplished stories that would film as per schedule. The fifth day of the residential workshop scheduled at Cox's Bazar sea beach on 12 October 2018. Where Shams and Siddiqui supervised the shooting script with the 25 aspiring peace film-makers.
It is to mention that the workshops on the first three days were conducted by the renowned film-maker. Morshedul Islam and celebrated actor Rokeya Prachy on 3-5 October 2018 at Cox's Bazar.
However, on an inaugural day, while welcoming the guest in the stage, Pervez Siddiqui placed a demand. For a film center in Cox's Bazar to the Mayor of the city.
Taking the thread from Siddiqui, Mayor Mojibur Rahman said, 'I wish to build a film center in Cox's Bazar to engage the youth in peace activities.
News Coverages: The Daily Observer, NTV Online